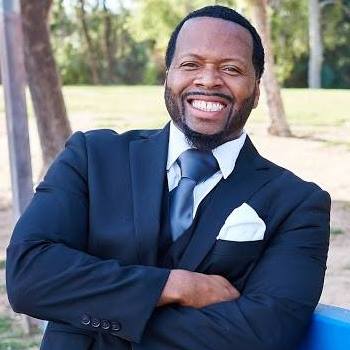 Rev. Dr. Damond Holt is the exciting, gifted and anointed Senior Pastor of Pilgrim Rest Missionary Baptist Church in Tucson, AZ. A courageous, dynamic and visionary leader, Dr. Holt is a much sought after preacher, teacher and keynote speaker for various churches, leadership and development programs.
Dr. Holt is the new elected President of the IMA. The IMA is the Inter-Denomination Ministerial Alliance, an African American coalition of pastors and Ministers to work together to helps solve issues among minorities.
He is involved with the IMA Community Action Team and serves as the Chairperson of the Criminal Justice Domain. He also serves as the Justice Director of the Justice Domain for the 4 Tucson organization. Under his leadership with both organizations, he works to establish criminal justice reform by building relationships and partnerships with the Tucson Police Chief, the Independent Police Auditor's Office, Pima County Attorney's Office, Juvenile Courts, Judges, court administrators, and other partners in the criminal justice community. One of Dr. Holt's favorite projects is the Tucson Police Department Partnership Program with the Boys and Girls Club.
Dr. Holt was recently appointed by Tucson's City Manager to sit on the Citizen's Police Advisory Board, he's also a member of the Steering Committee of the Pima County Juvenile Court Community Collaborative, he's working with the Clergy Against Racial Profiling, and finally, working with Pima County Attorney Barbra LaWall and her prosecuting team to create the first African American Community Justice Board.
Holt was born and raised in Flint, MI and is the graduate of Northwestern High School. After God called him to preach the gospel he enrolled in Full Gospel Church Bible College where he earned his Bachelors of Arts degree and Master of Arts in Theology. In 2002 he earned his Doctorate in Theology from Inter-Baptist Theological Seminary in Shreveport LA. He is a graduate of Ashworth College earning his diploma in Criminal Law and Procedure as a Paralegal. He is currently studying for additional advance degree program in Criminal Justice.